We believe that a relationship with God is the main story of God's interaction with humanity. (Find our full statement of belief at https://www.doxadeo.org/about/believe/). Our approach in this book was to not assume that you may know much about the Bible or Jesus or any of the other subjects.
This journey of discovery that we would like to take you on, was brought about by our heart for people who start, with their first steps, a relationship with Jesus. The best way to go about this is to find someone who already follows Jesus, and to have such a person walk you through the daily discoveries.
We have a couple of tools to assist you as you grow in your relationship with Jesus:
1. This course has 20 short daily studies that spread out over 4 weeks which you can work through as sessions via the links above, via a YouVersion plan (also linked above) or by reading the book available to download for free above.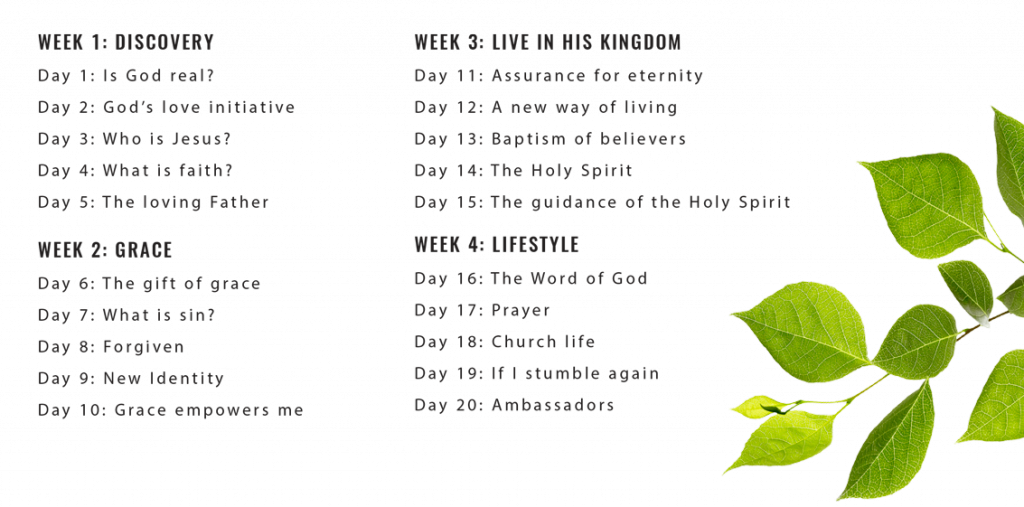 2. We recorded 20 videos of about 4-5 minutes each in English, to walk you through the content.
3. An audiobook is also available in English and Afrikaans via the links above.
4. Each day has an affirmation that we encourage you to repeat throughout the day.
5. Each chapter has one action step for each day.
So here we go! Watch the 4-5 minute daily video, or listen to the daily audio recording, as you follow it in your book.
May your relationship with Jesus grow to become the anchor of your whole life. He came so that we may have life in abundance! (John 10:10)